4 New Designs Launched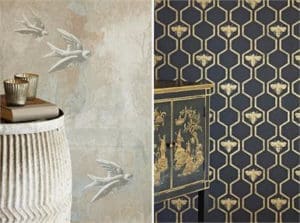 It was great to see so many of you at Decorex last month – our third and best show yet! We launched 4 new designs – Fresco Birds, Honey Bees, Dragonfly and Lucky Charms – along with Volume II of our pattern book, and BG can now be found in a host of new cities across the globe. Please email us for more information, prices or images.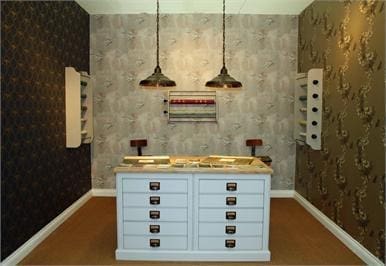 Huge thanks to our friends at Guild Anderson for the beautiful bespoke unit, to Davey Lighting for the awesome spun pendants, and to Rockett St George for the cool vintaged repro bar stools – all of which made our stand (above).  Below left: Fresco Birds. Below right: Honey Bees.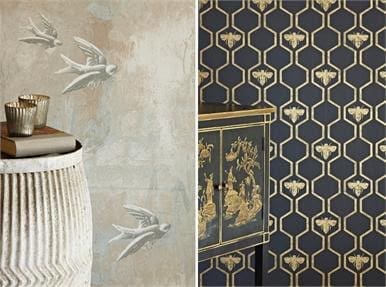 To coincide with the Decorex launch weekend, The Telegraph featured a 4 page article on Vanessa's country home (Vanessa being the Barneby half of Barneby Gates), published on Saturday 23rd September. The team at BG HQ were very proud! Here's a snap shot for those who missed it…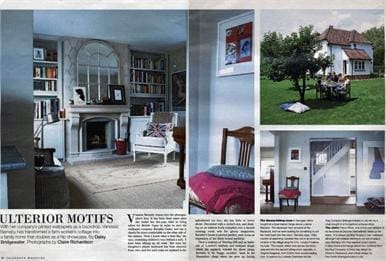 Above left, the sitting room in Vanessa's cottage is papered in our stone Boxing Hares. Below right, the children's bedroom, adorned in the candy All Star, and the downstairs loo in This Other Eden.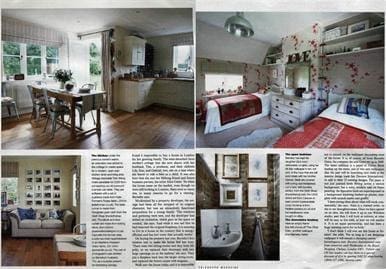 ---
AVAILABLE ON THE WEBSITE NOW OR EMAIL US HERE FOR SAMPLES AND QUERIES.
WE LOOK FORWARD TO HEARING FROM YOU!