Barneby Gates ~ Autumn ~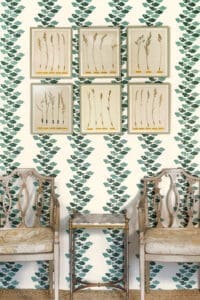 "Where are the songs of Spring? Ay, where are they?
Think not of them, thou hast thy music too, —
While barred clouds bloom the soft-dying day,
And touch the stubble-plains with rosy hue." – John Keats
The passing of Our Majesty The Queen has certainly given us pause for thought as we look back on her 70 years of unwavering commitment to our country. Autumn is always a time for reflection: gratitude for seasons past, hope and thanks for a full harvest. But bidding farewell to Our Queen this month – with its gentle September light, warmth and rose-tinted beauty – Keats words ring truer than ever.
May she rest in peace.
And now, with our back-to-school hat on and the arrival of the Autumn equinox on Friday, we'd love to show you our two new wallpapers which were very much inspired by this prettiest of seasons…
OAK LEAVES
A bold interpretation of falling Autumn leaves, this two colour design is traditionally Surface printed for a beautiful block print feel. Available in Pink/Red or Green, the wavy leaf pattern travels the full length of the wallpaper.
SWAN LAKE
A pair of deconstructed hand drawn swans, this design cleverly mixes the age old techniques of Surface and Flexo printing to achieve the generous textural wings alongside the delicacy of the swan necks. Available in Duck Egg or Inky Blue.
For our International friends who may not know, the Crown still owns all the unmarked swans in England. The law was created as far back as the 12th century, when swans were considered a delicacy. Rights of ownership could be passed on to friends of the Monarch who would mark their birds using their own imprint on their beaks. Today, King Charles III still owns the majority of our country's swan population as a way of protecting this wondrous creature.
FREE SAMPLES
Here's hoping we've inspired you for some bold decorating decisions in the coming months! We're always here to help and remember, we offer a free sampling service within the UK directly through the website. For larger returnable samples or any other queries please don't hesitate to get in touch by EMAIL.
Love, Vanessa & Alice x