Barneby Gates : Feeling Fruity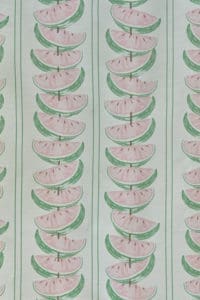 With temperatures soaring, we're turning our attention to the juiciest home trend of the season. From punchy pineapples and mouth-watering watermelons to Sicilian lemons and the British favourite – Strawberries and Cream, there's something for everyone feeling a little fruity…
Pina Colada
Our punchy Pineapples: bright and bold, they'll cheer up any room. Available as both fabric and wallpaper, in two colour combos – pink/red or in charcoal with gold pineapples.
Watermelon Sugar
A lickable favourite, our Watermelons are available in both fabric and wallpaper, in charcoal/red, or pink/green for a totally tropical taste.
Limoncello
Evoking lazy days beneath a pergola on the Amalfi coast our Lemons are available as wallpaper (the perfect pairing with Hadeda's wicker chair and bamboo bar) and fabric (shown here on the Balmain & Balmain frilly skirted 'Lambourne Chair') – this print is the ultimate mood enhancer.
Strawberries & Cream
Our Wild Strawberry Trellis wallpaper has an old fashioned loveliness. No English tea party or picnic is complete without strawberries and cream. We're currently working on a fabric version of this print, so watch this space.
This Month We Loved…
…this heavenly scalloped blind, beautifully hand-made by Arabella Jane Interiors, using our red Scallop Shell fabric. Scallops galore!
Love Vanessa & Alice x