Barneby Gates New Designs For Spring '13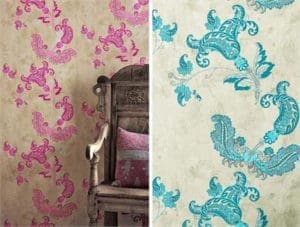 **NEWSFLASH** Barneby Gates will be launching their first FABRIC COLLECTION this September, based on a few of our favourite wallpaper prints, so watch this space! For now, we're excited to bring you two new wallpaper designs for Spring 2013: Paisley and The Dogs:
PAISLEY Inspired by a beautiful collection of antique textiles from India, this pretty paisley features a super bright print on a softly aged background. Think neon meets vintage chic. See it bigged up on the World of Interiors facebook page (300+ likes – but who's counting?), and don't miss the turquoise version in the next issue of Lonny Magazine. Available in hot pink on tea stain, or turquoise on old grey.
THE DOGS (starring our friend Doris on the pretty Kate Forman chair): Squint your eyes to get the picture – a large-scale, contemporary houndstooth from a far, sweetly entwined racer dogs up close. We hope you agree, this paper is the dogs. Available in pale grey or charcoal.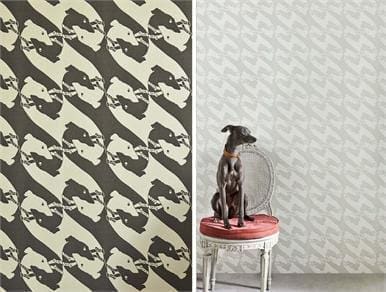 ---
Please don't hesitate to EMAIL US for samples or queries, or call us at the studio on 01672 560240 – we'd love to help!