Fall Inspirations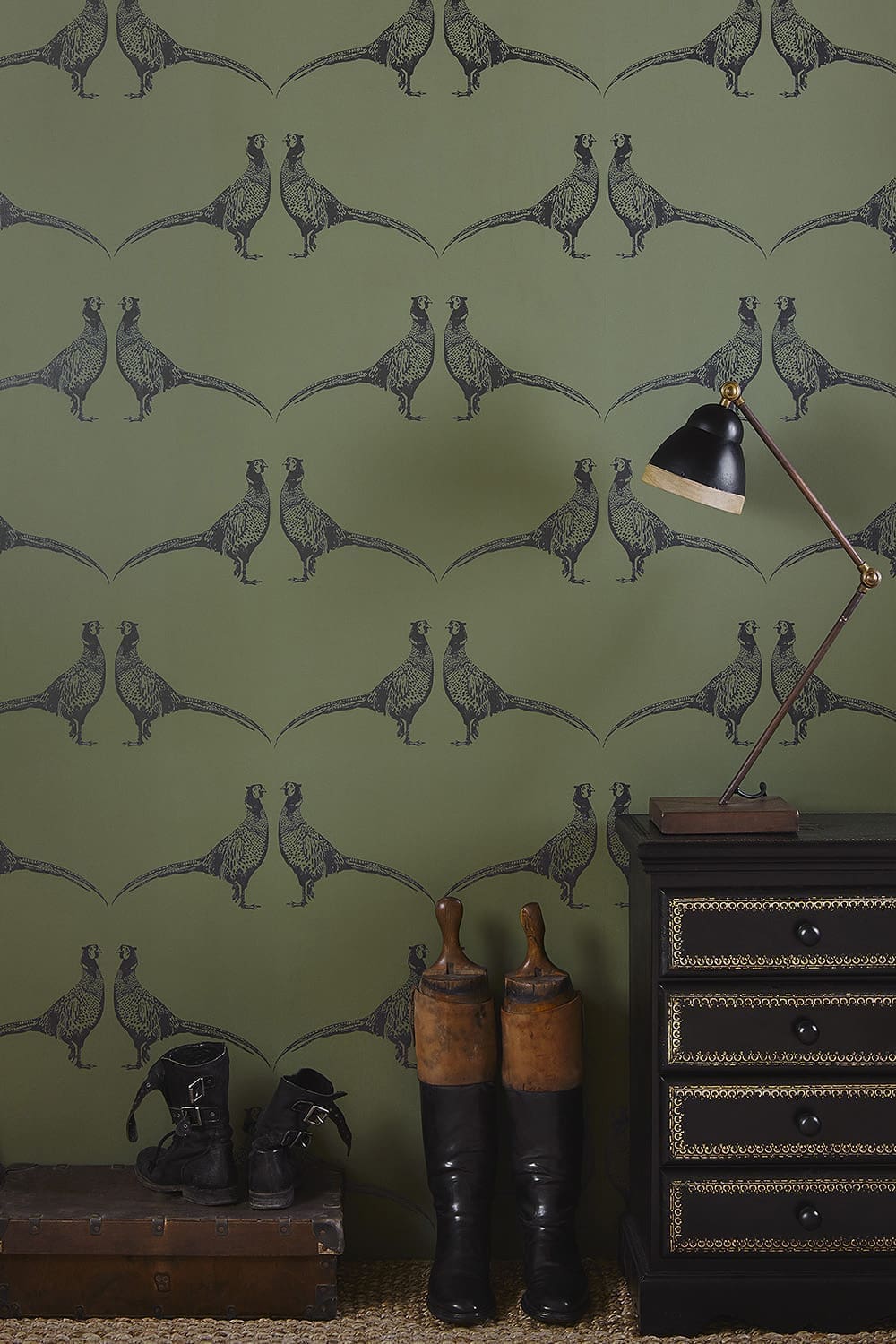 Being country dwellers, we treasure the month of October – soaking up the hours before daylight saving kicks in, the last of the apples, long (sunny) coatless walks. It is a precious month. As the nights draw in thoughts naturally turn towards the inevitable mud-fest, and recently we've found ourselves enviably pouring over images of other people's entrance halls and boot rooms, in the vague fantasy that one day ours will be as beautifully organised as theirs…
This chic family entrance, above, was designed by Camilla Bellord Interiors. We love how she's paired our camo green Pheasant wallpaper with Farrow & Ball 'Downpipe' for the woodwork. Such a smart combination and yet plenty of room to hide muddy wellies and wet coats.
BOOT ROOMS
Meanwhile, White Mulberry Soft Furnishings have given this boot room a glow up using Farrow & Ball's 'Card Room Green' for the tongue and groove woodwork, with blind in our charcoal PHEASANT fabric. The addition of a shelf above the coat hooks is great for hat storage. Below, two more of our favourite boot room wallcoverings – Deer Damask in claret / gold, and Fox & Hen in brick. Tally Ho!
This Month we Loved…
Ikat Heart
…seeing our IKAT HEART print used in two very lovely ways. Above, Johnston Parke Interiors have paired the Ikat Heart fabric with our Wild Strawberry Trellis wallpaper for the prettiest combo. The woodwork is in Paint & Paper Library Elizabethan red, with lampshade by Pooky. Below, the IKAT HEART wallpaper looks wonderful with these bespoke headboards, in a Cloth Shop stripe.
With all this chat about mud, we were delighted with the arrival of our new MerryPeople neoprene booties (below!) – the perfect trans-seasonal shoe and just in time for a very messy winter in the studio…
Love Vanessa & Alice x