Hats Off to Her Majesty!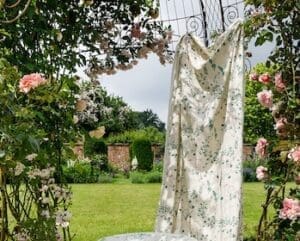 Celebrate in Style
With the Platinum Jubilee weekend fast approaching we're getting ready to party. However you intend to celebrate, do it in style …
Garden Party
Thoughts of garden parties and midsummer revelry take us back to this time last year when we hosted a lunch at Daylesford Farm to launch our collaboration with Willow Crossley. Our draped lengths of Maharani fabric made for the prettiest tented ceiling, while trestle tables were adorned in Botanica fabric and matching napkins with rikrak borders for guests to take home.
We pray for sunshine, but in true British style we'll celebrate al fresco regardless. Coronation chicken, cucumber sandwiches, scones and cream with jam galore will all be on the menu. For the cheats (that's us!), bag your Jubilee Hamper now: Dukeshill, Fortnum & Mason and Cutter & Squidge are our favourites for classic English fare.
Flying the Flag
Dressing yourself or your home, planting colour co-ordinated flowers in the garden, or entering the best dressed house competition? Whatever you're up to, red white and blue will be a dominant theme. For an air of British nostalgia, our Hot Air Balloons and Anchor Tile wallpapers will take you on a trip down memory lane.
Regal Reds
In the Middle Ages adopting a colour was a way for Kings to show their God-given right to rule, with red becoming the colour of regal majesty and power. Red is still glamorous and luxurious, whilst also bringing cosiness and warmth to the home. From soft pinky reds and oxbloods through to deep claret – we've got it covered in the new 'View by Colour' section coming to our website soon – keep an eye out!
HAVE A WONDERFUL BANK HOLIDAY WEEKEND!
Love Vanessa and Alice x