Inspiration for the New Year
We're always so grateful when happy customers post images of their newly decorated rooms, and nothing gives us more pleasure at the start of a new year than looking back on photographs from the year we've just had. Seeing our wallpapers and fabrics in their new homes is just the loveliest and most inspirational thing and so we hoped that, by sharing some of our favourites here, you might be inspired too…
Strike a Balance
Charlie and Melissa, the clever duo behind Hutley Humm strike the perfect balance between pretty and cool in this beautiful bathroom. We love how they've mixed the soft plaster pink and greens of our Scallop Shell wallpaper with chunky brass fittings and contemporary lighting.
Cosy Layering
Meanwhile, how inviting is this sitting room in the red version of the Scallop Shell wallpaper? Just the most wonderful mix of pinks and reds, patterns and plains, velvets and linens. This is a room we could spend a LOT of time in.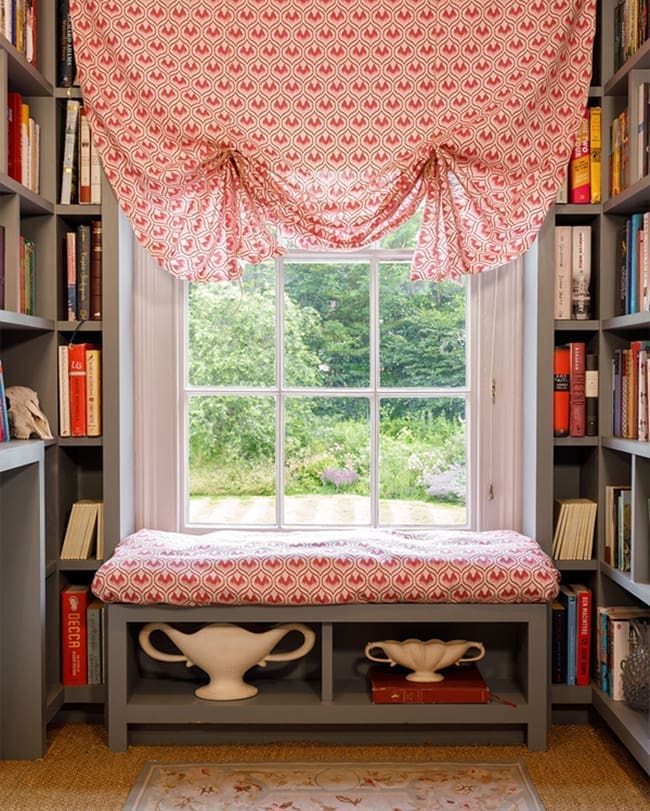 Window Dressing
Reading nooks – if they're not already a thing, they should be. Any redundant dead-end space can be transformed with clever shelving and your favourite collection of books. We could happily while away some hours reading at this window seat, adorned in our Ikat Heart fabric.
It's always intimidating to hang that first picture on the wall after the wallpaper has gone up, and I know many people are too afraid to take the plunge. Our tip is don't be precious! Look at the wallpaper as just one of many layers to the room, and covering it in artworks adds so much depth and character. Shown here, our Maharani Block Print paper and fabric, created in collaboration with Willow Crossley makes a lovely base for a gallery wall.
Cornerstones
A solid upholstered ottoman makes a great surface for those weighty coffee table books and flowers, but can also be the ideal perch for extra bums at the party too. This one, beautifully covered in our Artichoke Thistle fabric makes a great centrepiece, tying in the blues around a room of mismatched fabrics. We love the use of brass upholstery studs to break up the print.
Paint Colours
Selecting paint colours to sit with our papers is never simple and often it's a matter of trial and error, and a LOT of sample pots. Create an impact with a contrasting paint colour, like Farrow & Ball's Inchyra with our pink Pheasant wallpaper or go matchy matchy like this bubblegum pink with our Pineapples.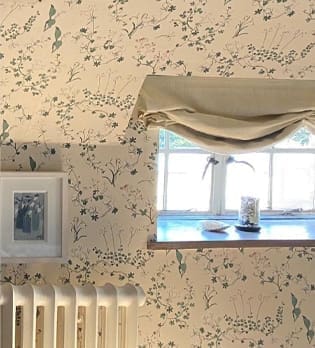 Eaves, Beams, Etc.
We're often asked how far up the walls should the wallpaper go when there are eaves and beams to navigate around. More often than not, we'd say go all the way – there's nothing more inviting than a jewel box room adorned top to bottom in wallpaper. Just be careful to select a pattern that won't highlight mismatched and spliced areas too noticeably.
In the bedroom above, the wispy trails of our Botanica Wallpaper – created in collaboration with Willow Crossley – provide the perfect natural movement up the sloping walls, while in the bedroom below our Artichoke Thistle has been used to create a pretty wallpapered canopy over the bed.