Last Chance for Cushions in time for Christmas…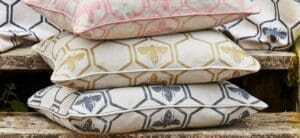 Still haven't quite nailed the Christmas shopping? Need a little inspo? A well made cushion isn't just for Christmas – ours are designed to last a lifetime and – like you – will get better with age as they soften around the edges!
Place orders by midday Tuesday 20th December (at the very latest) for delivery before Christmas. HAPPY SHOPPING!
Love Vanessa & Alice x