New Spring Wallpapers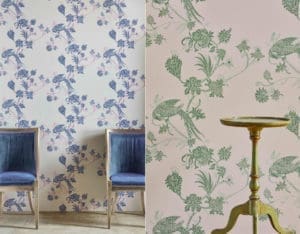 ---
SPRING has finally arrived here in the UK, so it feels fitting to announce the BARNEBY GATES new season wallpapers – VINTAGE BIRD TRAIL and STAR TILE – which are, well… full of the joys of Spring!
Inspired by a 19th century French quilt, reworked with a contemporary twist, VINTAGE BIRD TRAIL (above) is available in a soft plaster + green, or blue + pink for a modern take on French country style. Watch this space for the matching fabric launching in Autumn!
The well worn floor of a backstreet restaurant in Italy inspired this STAR TILE paper (above), which comes in sage or pale pink. (Again, keep your eyes peeled for the matching fabric, available soon!)
---
THESE DESIGNS ARE AVAILABLE NOW, BUT PLEASE ALSO FEEL FREE TO EMAIL US HERE FOR SAMPLES OR ANY OTHER QUERIES.
WE LOOK FORWARD TO HEARING FROM YOU.