New Wallpapers Now Online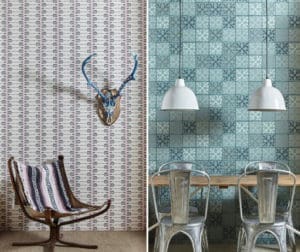 BARNEBY GATES launch two new designs for Spring 2017: ARROWS and FLEUR DE LYS TILE
---
ARROWS: With a nod to the Mexicana trend, Arrows forms a sleek linear print which looks just as good hung horizontally as it does vertically. Available in charcoal / pink (below left), or blush (bottom right). Painted skulls by artist Pia Pack.
FLEUR DE LYS TILE: A trompe l'oeil tile print with a bistro feel, Fleur de Lys Tile (traditionally printed using our signature surface print tecnique) is available in canteen blue (above right) or vintage grey (below left).
---
Please don't hesitate to EMAIL US for samples or queries, or call us at the studio on 01672 560240 – we'd love to help!