Spring Inspirations

Spring Greens
After a few false starts, I think we can safely say that Spring has finally sprung just in time for a sunny Easter weekend. My wisteria buds were heartbreakingly frost bitten last week, but there are plenty more hopeful little shoots popping up and the joy those bring at this time of year is unparalleled. The return of warmer weather means it's time for a refresh, so here are a few Spring greens to fill your home with happiness all year round…
Artichoke Thistle Fabric
The softest and prettiest of greens, our Artichoke Thistle fabric is a really easy print to use, and works beautifully for draped curtains, Roman blinds or upholstery. A small scale repeat inspired by the artichoke flower (or thistle), this is versatile and un-shouty for the quieter decorators amongst us.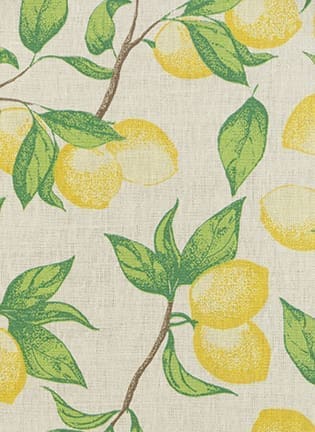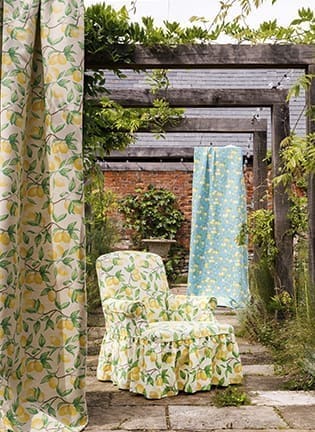 Capri Lemons Fabric
These luscious lemons have us longing for lazy days beneath a pergola on the Amalfi coast, but in the meantime this bold and bright fabric will lift your spirits wherever you are. Available in three colours – natural, azure blue or cream (as shown on the Balmain & Balmain frilly skirted 'Lambourne Chair' above) – this print is the ultimate mood enhancer.
Willow Crossley X Barneby Gates
Don't miss this lovely article in the latest issue of Harper's Bazaar UK featuring our floral friend Willow Crossley in her beautiful Oxfordshire home, photographed by another old friend of ours, the very talented photographer Simon Brown. Above, Willow's spare room clad in our ivory Botanica wallpaper – Spring personified!
THANK YOU!
Finally, we wanted to say a heartfelt thank you to each and every one of you who placed an order during the month of March when we were selling fabric samples and remnants to raise money for the Ukraine Humanitarian Appeal. We've raised over £2000 so far, and still counting!
Love Vanessa and Alice x