Barneby Gates At Decorex 2012
How quickly a year has gone, and here we are again frantically preparing to exhibit at Decorex International. Fresh off the print run, and with just 10 days to go, we thought you might like a sneak peak at the two new wallpapers we have in store for the show: Fresco Birds and Honey Bees.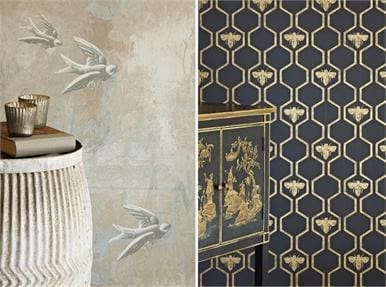 Below, Honey Bees: A geometric honeycomb interspersed with bees, created using the traditional surface print technique for a hand-stamped finish. Available in gold on charcoal, or rose on stone…
Below, Fresco Birds is a modern take on the ancient art of fresco painting. The beaten up plaster wall complete with paint marks, old nails and graffiti-style scratches (such as 1963 etched into the brickwork) is softened by decaying grey swallows flitting across the paper. Available only in natural…
DON'T MISS VANESSA BARNEBY'S HOME IN THE TELEGRAPH MAGAZINE,  SATURDAY 15TH SEPTEMBER – ADORNED, OF COURSE, WITH LASHINGS OF BARNEBY GATES WALLPAPER!
---
AVAILABLE ON THE WEBSITE NOW OR EMAIL US HERE FOR SAMPLES AND QUERIES.
WE LOOK FORWARD TO HEARING FROM YOU!